ABMECH Acquisitions, LLC Awarded Governor's Award for Safety Excellence (GASE)
Since 1999, fewer than 100 businesses have been named as winners.
Our Workplace Safety Committee is very pleased and proud to be named a 2013 & 2020 winner of the Governor's Award for Safety Excellence (GASE). ABMECH Acquisitions, LLC is one of 10 businesses in Pennsylvania to have won the award in 2013 & 2020 and the only hazardous materials remediation company to ever win. The plaque was presented by the PA Dept. of Labor and Industry Deputy Secretary Eugene Connell at a luncheon at the Rivers Club. Also on hand from the Dept. of Labor and Industry were Health & Safety Division Chief Scott Weiant and Press Secretary Sara Goulet.
---
Abmech's Additional Safety Awards
Theodore H. Brodie Distinguished Safety Award

2012, 2013, 2014, 2015, 2016
Master Builder's Association Excellence in Safety Award

2015, 2016, 2017, 2018, 2019, 2020
American General Contractor's Certificate of Commendation for Excellent Safety Record – Zero Incidence Rate

2015, 2016, 2017, 2018, 2019, 2020

Certificate of Recognition – OSHA National Safety Stand-Down

 2016, 2017, 2018, 2019, 2020

OSHA Safe + Sound Week Co-Sponsor

American Society of Concrete Contractors for Excellent Safety Record – Zero Incidence Rate 2020
---
Celebration of Safety Picnic
Each summer Abmech Acquisitions LLC holds a Celebration of Safety Picnic to thank our workers for their commitment to safety.  This year our picnic was held on August 23, 2019.  As in years past, this year's picnic included a Corn-hole Tournament with prizes for the winning team and the runners-up.  The beautiful weather made it an ideal day to enjoy great food and good company.
We believe that there is a real payback on motivation and performance from a rewards-based safety incentive plan. However, that is only one element in our overall safety and health program. Our greater goal is to provide training combined with incentives and individual employee recognition, to improve overall performance and safety thus having a substantial long-term impact on reducing accidents in the workplace. The following five components of our program have been the key to our employee buy-in of the program and its success:
A properly functioning and complete program
Ongoing examination of safety performance
Support of management with pro-active participation and recognition
Structured incentive program with clearly defined goals
Ongoing communication with rewards tailored to motivate and fit the workforce.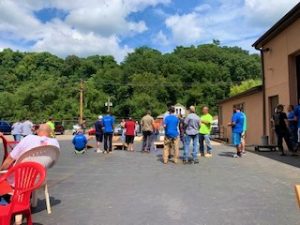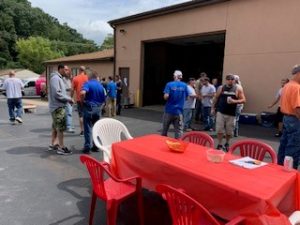 ---