What is Asbestos?
Asbestos is a group of naturally occurring fibrous minerals. It is mined and milled from rock and is thin and strong. Chrysotile (white asbestos), Amosite (brown asbestos), and Crocidolite (blue asbestos), are the most common types of asbestos used in manufacturing. Rarer forms are Tremolite, Anthophyllite, and Actinolite. When viewed under a microscope, Chrysotile fibers are pliable and cylindrical and are often arranged in bundles, whereas Amosite and Crocidolite fibers appear to look like tiny needles. They are heat resistant, don't conduct electricity and are oblivious to chemicals. Asbestos has been extensively used in building construction for its insulation and fire retardant characteristics. Asbestos has also been used in automobile brake, clutch, and transmission parts, vermiculite-containing garden products, and even some talc-containing crayons. The use of asbestos and asbestos-containing products has decreased dramatically but they continue to pose a health risk to workers and others because they are still found in numerous commercial and residential settings.  For additional information click here:  https://www.epa.gov/asbestos
Is One Type of Asbestos More Dangerous Than Another?
There have been more cases of Mesothelioma and cancer found in people working with Crocidolite than any other type of asbestos. However, all forms of asbestos except Chrysotile are of the same mineralogical family called Amphiboles. Even though there appear to be fewer incidences of disease in workers who deal only with Chrysotile, all asbestos forms are believed to carry similar risks.  To learn more, click here: http://www.dep.pa.gov/Business/Air/BAQ/BusinessTopics/Pages/Asbestos.aspx
Where Can You Find Asbestos Hazards in Buildings?
Asbestos cement products
Textured coatings
Floor tiles, textiles, and composites
Sprayed coatings on ceilings, walls, and beams/columns
Asbestos insulating board
Lagging
Loose asbestos in ceiling or floor cavities
Siding shingles
Boiler insulation
When Are Asbestos-Containing Products Dangerous?
Asbestos-containing material (ACM) is dangerous if the asbestos fibers can be released. Once they are floating freely in the air, asbestos fibers can be inhaled and cause disease.
Some ACM can easily be crumbled by hand pressure. This soft or loosely-bound material is called "friable" asbestos. Friable ACM is the greatest health concern because it can easily release fibers. In places where it is beginning to deteriorate, the likelihood of fiber release is even greater. Examples of friable asbestos-containing materials are sprayed-on asbestos ceiling insulation, fireproofing on structural beams, and troweled-on acoustical insulation.
Hard asbestos-containing material, in which asbestos fibers are firmly bound or encased, such as vinyl floor tile, does not generally create exposure problems. However, if it is sanded, ground, cut, or disturbed in some way, even non-friable ACM can release fibers and present a hazard. Therefore, any material that contains asbestos has the potential to release fibers and become hazardous.  More information about friable vs. non-friable asbestos can be found here:  http://www.fs.fed.us/eng/toolbox/haz/haz07b.htm
What Must Be Done If Asbestos Is Discovered?
Asbestos materials in good condition are safe unless asbestos fibers become airborne, which happens when materials are damaged. Inspect the material periodically for damage or deterioration. The only way to tell if an object contains asbestos by looking at it is if the material is labeled. Otherwise, you should have it sampled and analyzed by a qualified professional. Until you get the results, treat the material as if it contains asbestos. Samples should be extracted only by qualified professionals. If improperly done, extracting samples can be more hazardous than leaving the material undisturbed.
If the asbestos material is damaged or if you are going to do any work in your building that might disturb the asbestos, removal or repair by a professional is needed. A repair usually involves either covering or sealing the asbestos material. Covering involves putting a protective wrap over or around the asbestos-containing material to prevent the release of fibers. Sealing involves treating the material with a sealant that either binds the asbestos fibers together or coats the material so fibers are not released. Repair is usually cheaper than removal, but a repair may make it more difficult to remove later on if the need arises.
Zero In on Zero Accidents
Licensed to manage asbestos abatement projects in Pennsylvania, West Virginia, Maryland, Virginia, New York, and Ohio, ABMECH Acquisitions, LLC is staffed with highly trained technicians, fully experienced in meeting your project needs. Our primary concern is to ensure that your environmental situation is corrected safely, cost-effectively, and permanently  Oftentimes, the removal of hazardous materials from within commercial and industrial structures can best be worked in conjunction with the interior demolition package.
Larimer School Stabilziation & Remediation Project
Our company provides the expertise and equipment to offer a One-Stop-Shop, delivering a site to the owner cleared of all hazardous materials along with mechanical, electrical, and architectural finishes. The facility can then be retrofitted by other trades without the risk of accidental exposures or work stoppages.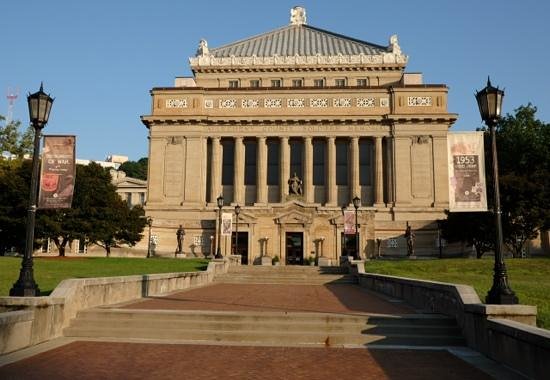 ABMECH Acquisitions, LLC has been actively involved with the remediation, renovation, and re-purposing of many of Pittsburgh's classic buildings such as Soldiers & Sailor's Memorial Hall and Museum and 11 Stanwix St. (the former IBM headquarters).  In addition,  we have done extensive work for Pittsburgh's foremost universities, including the University of Pittsburgh, Duquesne University, Carnegie Mellon University, and Carlow University.